FLY PRIVATE
Our extensive selection of private jet charter is the perfect option for customers who value their time, space, and privacy when traveling for work, play, or other vital reasons. We facilitate access to around 5000 planes from your preferred location to most airports worldwide. Our staff will handle all aspects of private air travel, including onboard catering, visa and transit support, and hotel reservations (on demand).
The pandemic has drastically altered the perception of commercial travel among millions. More than ever, the idea of crowded airport terminals with hundreds of passengers, protracted wait times, and overcrowded plane cabins has led many to seek private jet leasing services for the first time.
Want to rent a private jet? Get in touch with one of our committed account managers at  +91 9811673015,  011-25673017  or 
The Benefit of Private Jet Charter – It's a Business Tool
Today's unmatched independence and privilege make private jet rentals and VIP business aircraft more appealing. In essence, it moves according to your schedule.
Customers of private aviation have the flexibility to take off and land anywhere at any time. This means you won't have to put up with the long lines at airport check-in, sluggish boarding, flight delays or cancellations, or any other inconvenience that comes with using a scheduled airline service.
When traveling by private jet, all you have to do is show up a bit early and board the aircraft. It is that simple and easy. Reducing this downtime is essential for senior executives and others who frequently travel to foreign nations.
No Crowds, No Tension Your Plan Our Plane -Private Jet Charter
Additionally, even while the world continues to struggle with the consequences of COVID-19 variations, private flight helps to minimize the spread of any infection by avoiding large crowds and reducing contact.
Another significant perk of using a private plane is comfort. Private jets and VIP business aircraft mimic luxury hotel suites thanks to their high-end features and finishes. Customers can enjoy a superior travel experience from take-off to touch-down thanks to the roomy cabins with plush interiors and a wealth of amenities.
Interior
You'll probably note that the Falcon cabin has a lot of seating as soon as you enter it. That's because this jet can impressively accommodate 12 to 18 passengers, which is more than adequate for a few modest families or business groups. You'll probably also notice that the cabin of this jet features a variety of distinct seating places. These feature a separate dining area and conference space that may be used by both business and leisure tourists.
Speaking of business travellers, the Falcon  has a host of conveniences designed with their requirements in mind. This incorporates SATCOM, an on-board phone, and an uplink for computer data. The TV and DVD player system aboard this jet will allow passengers who are travelling for fun to enjoy onboard entertainment. Additionally, there is a practical full restroom in the back of the aircraft that should be simple for any passenger to use.
Private Jet Charter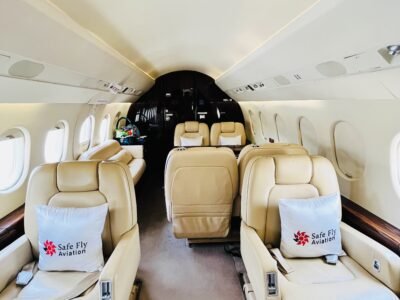 Private Jet Charter with Safe Fly Aviation
Your Ultimate Luxury Travel Experience Awaits
 "Unparalleled Luxury in the Skies"
Embark on a journey of luxury and comfort with Safe Fly Aviation's private jet charter services. Elevate your travel experience to new heights.
"Seamless Travel, Tailored to You"
Imagine flying in style with a jet that's exclusively yours. Safe Fly Aviation crafts journeys that match your preferences, offering a new standard in tailored travel.
"Exclusive Luxuries at Your Fingertips"
Indulge in luxury as you've never experienced before. Our private jets offer exclusive amenities, creating a luxurious oasis above the clouds.
Unlike any other business aviation company, Safefly provides air charter services. with unmatched expertise landing at and taking off from the most challenging locations. As a market leader, Safefly provides private aircraft to governmental organisations, travel operators, FIFO, and private citizens.
​A team of professionals with years of industry expertise, an unblemished safety record, and a sizable fleet of Beechcraft King Air B200 and Cessna Citation Jet II aircraft operating across India and abroad oversee and customise each flight.
Why rental of a private jet for leisure or business
Experience
We have over 12 years of experience moving people and sensitive cargo all around the world, working with OEMs and Tier 1, Tier 2, and Tier 3 suppliers.
Comfort and luxury:
Flying should be enjoyable, thus we strive to make your charter trip as opulent and pleasant as we can.
Worldwide coverage
Regardless of where you want to fly to or from, our worldwide network of offices gives you access to local expertise on a global level.
Discretion and security:
Privacy is guaranteed by an ACS charter, and we closely coordinate all parts of your charter with your security provider.
More access to airports
Reach a faraway place or merely get there sooner than a scheduled service would permit.
Access to a private terminal
Avoid queues and unnecessary delays – you're able to board your private aircraft minutes before take-off.
What's the procedure for a charter?
Following your initial inquiry, a personal charter expert will be assigned to you who will send you a range of quotes from which to pick. Each quote will include a detailed breakdown of the types of aircraft and airports used, as well as the rationale for their selection. If you decide to proceed, your private charter specialist will reserve the private aircraft and provide you the flight information. This contains information about how to get to the terminal as well as any other crucial details about your charter trip.
Any additional questions you may have about the flight should be directed to your personal account manager, who will, if at all feasible, meet you at the terminal. You will be able to reach your account manager at any time, from anywhere, starting with your initial quote.
How much baggage am I allowed to bring on board charter flights?
We'll let you know how much your preferred aircraft's hold can accommodate, and you can upgrade if you think you'll need more room. Typically, a luxurious private plane would allow you to bring more luggage than a commercial airline. If you're travelling with equipment like skis or golf clubs, you might also need to update.
How far in advance of my charter flight do I need to check in?
Compared to regular service flights, you may check in significantly closer to take off when using private terminals. You may need to arrive as little as 15 minutes before your private jet is scheduled to take off, and in certain circumstances, a driver may take you right up to the aircraft so you may board it.